April 28th, 2016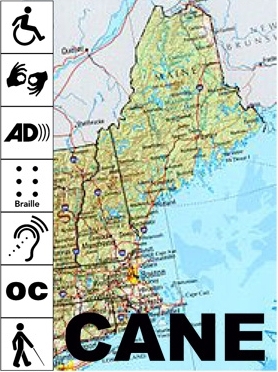 Cultural Access New England (CANE)
invites you to:
"ACCESS: Steps Forward to Inclusion"
How do we look at our institutions and the barriers that prevent full inclusion? Is meeting ADA compliance satisfactory? Do you think people with disabilities don't attend your programs? Is it always about money?
Addressing policy and the need for institutional buy-in, Cultural Access New England (CANE) will facilitate a lively discussion for cultural organizations wanting to go beyond regulatory requirements and broaden community outreach, develop strategic plans, and create inclusive environments.  Information regarding regulations and resources will be present in a workshop designed to support the Executive Director AND the Volunteer.
Monday, May 16, 2016
1 PM – 3 PM
Providence Children's Museum
100 South Street, Providence, RI 02903
(401) 273-5437
Directions and Parking Information
Food and drink are allowed in the meeting space, so feel free to bring your lunch or pick something up across the street at Rue Bis. Rue Bis Menu Link
Presenters:
Charles Baldwin, Program Officer, UP Inclusive Design Initiative, Massachusetts Cultural Council
Saki Iwamoto, Health and Wellness Educator, Boston Children's Museum
Nora Nagle, ADA and 504 Accessibility Coordinator, Museum of Science
To request American Sign Language or other accommodations please contact Saki Iwamoto when registering and before May 9, 2016.
CANE is an all-volunteer organization.  There is a $10 charge to help defray the cost of providing materials and reasonable accommodations.
Register via Eventbrite
For more information about CANE, visit www.ca-ne.org or visit us on Facebook: CANE Facebook Page
To join the CANE Google discussion group, contact: nnagle@mos.org