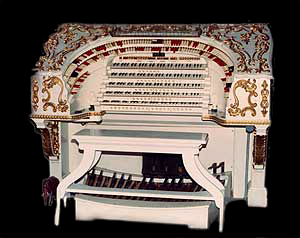 "The Wonder Show of the Universe"
Mudboy AKA The Doctor of Experimental Noise Organomics is going to play the PPAC on Wednesday June 8th.
Its Free. It starts at 7pm and ends at 8pm.
For those of you who don't know- the PPAC is the Providence Performing Arts Center, it holds about 3000 people- and is the place where the Lion King comes when it comes to town. You might just come to see the auditorium- but if you like music it is also home to a practically one of a kind 5 keyboard Wurlitzer pipe organ. Which is what Ill be playing. This thing will blow your mind.- Its very loud- the pipes are huge and dynamic and make sounds I have never heard on anything- and its completely air powered. I don't know what else to say. Oh yeah- Jeff Knoch (urdog) and Erik Carlson (Area C) will be making an appearance. Ep Talley (Ninja) will be assisting.
Some of this is funded by RISCA, but mostly the people at the PPAC have been very nice to me – so if you come, don't burn the place down in an orgy of pipe tone ecstasy.
More info here: www.mudboymusic.com
PPAC internet tour etc: www.ppac.org/auditorium/index.cfm