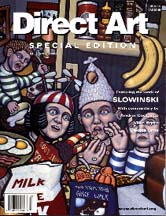 A Show of Heads
October 27 – November 26, 2005
SlowArt Productions presents the group thematic exhibition, A Show of Heads. The exhibition will be held at the Limner Gallery from October 27 – November 26, 2005. Open to all artists working in any media, this exhibition will include all interpretations and portrayals of the human head, from the traditional to the abstract and conceptual. All visions of the The Head, including partial and multiple heads, will be reviewed and considered.
ELIGIBILITY: A Show of Heads is open to all artists, national and international, working in all media. All forms of art are eligible. Entrants must be 18 years of age or older to apply.

IMAGE PRESENTATION: Artwork submitted may be represented by 35mm slides or prints (photographic or digital prints up to 8.5″ x 11″ accepted.) Each slide or print must be numbered and labeled with artists name, title of work, media and dimensions of work. The same information must also be written on the corresponding image list, including the price. Indicate top of work. Do not send glass slides, glass slides are almost always crushed in the mail.
DIGITAL: Artists who wish to submit digital image files instead of slides or prints may do so. Digital image files may be submitted on PC platform CD, DVD or 100mb Zip disc, TIF or JPG format are acceptable. No files larger than 15MB please. Include a single reference sheet with thumbnail prints representing the images on the disc. Next to each reference print write the artist, title, media, dimensions and file name. Write the file name on the corresponding entry form image list.
RETURN OF MATERIALS: A self-addressed-stamped-envelope (SASE) must be included with sufficient postage for the return of your submission materials. Artists outside the U.S. may include international reply coupons instead of stamps, or may add return postage cost to their entry fee at a rate of $.80US per ounce of mail.
NOTIFICATION: Artists will be notified of acceptance or non-acceptance no later than August 31, 2005. Notification will be made by mail with the return of materials using the SASE provided by the artist. Artists who do not include the SASE because they do not want their slide or print materials returned must provide a self addressed stamped #10 (letter size) envelope to receive mail notification. Artists who provide no return envelope will only be notified if they are accepted to exhibit.
FEES: There is a $30.00 entry fee for 1-4 slides, prints or digital files. If you wish to include more than 4, please include $5.00 for each additional. Details of artwork count as additional. Artists accepted to exhibit will not be charged additional fees of any kind. Please make check or money order payable to SlowArt Productions. Artists who wish to pay by credit card may do so at www.paypal.com. At the PayPal web site send your payment to the email address slowart@aol.com. Print the transaction page and include it with your entry.
AWARDS: Artists from A Show of Heads will be featured in the upcoming Direct Art Volume #13, Spring 2006 issue. As part of a review of the exhbition, these artists will be represented by reproductions and commentary on their work within the article.
TERMS: All works in the show must be for sale. The gallery will take a 30 percent commission on all sales. Sale price determined by artist.
DEADLINE: The Final postmarked deadline is August 31, 2005. Entries must be postmarked by this date.
——————————————————————————–
A SHOW OF HEADS
(entry deadline August 31, 2005)
Name____________________________ Tel( )________________ Email________________
Address______________________________________________________________________
City_______________________________________State___________Zip_________________
Image List: number slides or prints and list title, medium, dimensions and price below
1. ___________________________________________________________________________
2. ___________________________________________________________________________
3. ___________________________________________________________________________
4. ___________________________________________________________________________
5. *____________________________________________________________________________
6. *____________________________________________________________________________
* – $5 for additional image entry optional, six image maximum
Remember to mail by August 31, 2005: 1)Slides/Prints or Disc 2) Entry Form 3) SASE 4) Entry Fee
Mail completed application to:
SlowArt Productions, A Show of Heads, PO Box 503, Phoenicia, NY 12464